Homayoun Ershadi, Actor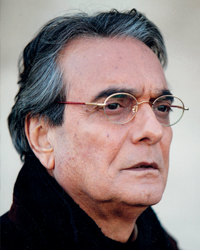 Born in 1947 in Isfahan (Iran), he graduated in Architecture from the University of Architecture of Venice (Italy).
He started work as an architect in Iran till 1979; then he moved to Canada (Vancouver) in 1980 and worked as an architect till 1990. In 1996, he returned to Iran, where he worked in the same field as well.
It wasn't until 1996 that he started his acting career with the film "Taste of cherry", winner of the Cannes Film Festival (1997). Ever since, he has been working in the field of cinema, television and theater. He is a jury member in the House of Cinema 2014 (Iran).
He's known for the movies "A Most Wanted Man" (2014), "Zero Dark Thirty" (2012), "The Kite Runner" (2002) and "Taste of Cherry" (1997).