Joëlle Touma, Screenwriter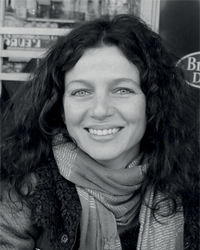 A screenwriter and script doctor, Joëlle Touma started writing screenplays in 1998. At that time, she was also a TV host and a TV and theatre actress in Lebanon. She pursued her journalistic career in parallel by becoming the Beirut correspondent for the French daily Libération and the Belgian daily Le Soir. She also worked as a fixer in Lebanon with several media outlets.
Since 2006, she has been dedicating herself only to writing screenplays.
Three films she wrote and co-wrote are currently underway "Error 404 page not found", to be directed by Raja Amari, "Man in the Middle", to be directed by Ziad Doueiri and "Papamobile", to be directed by Rachid Bouchareb.
Two films she co-wrote were released in 2013, and they are "The Attack" by Ziad Doueiri and "Just Like A Woman" by Rachid Bouchareb. She is currently developing the script for The Insult, a project produced by Ezekiel and to be directed by Ziad Doueiri.