Julie Gayet, Jury President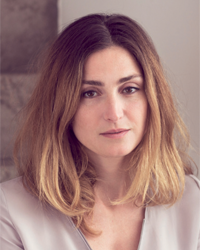 Although Julie Gayet has not forgotten about acting, her first love in cinema, she currently dedicates most of her time to movie production and consulting. In 2007, her natural curiosity drives her to partner with Nadia Turincev in movie production. Both women share the same look on cinema and a mutual commitment to discover and promote new talents impells them to create Rouge International. Their first production is Xabi Molia's 8 Fois Debout, a movie in which Julie Gayet plays with Denis Podalydès and for which she is awarded Best Actress at Tokyo's 2008 International Film Festival. With Raed Andoni's Fix me and Cristián Jimenez's Bonsaï, both respectively officially selected for the Sundance Film Festival and Cannes Film Festival's Un Certain Regard, Rouge International rapidly develops to be the privileged interlocutor of emerging young writers of the international independent cinema. During these years, while studying funding of movies, Julie Gayet is a member of the SOFICA Banque Postale Image's Committee for three years as well as co-founds the TEPA 4 Saisons Prod fund in 2009. Having acquired a rich experience in the field, she becomes a consultant and founds Cinémaphore, an innovative platform that connects financiers to producers and writers driven by common desire of making movies.While managing investment of private financiers and cinema brands, she envisions a virtuous link between cinema and finance.
After meeting Lebanese banker and long-standing support of the Beirut International Film Festival Antoun Sehnaoui, Julie -now actress, producer and consultant, accompanies the creation of Ezekiel Film Production, which aims to support the cinema d'auteur internationally, a project that is dear to both the banker and the actress. Among the movies in which the actress played: Agnès Varda's Les Cent et une nuits, Dominique Farrugia's Delphine 1 – Yvan 0, Laurent Bouhnik' Select Hotel, (Romy Schneider Award), Stéphane Giusti's famous comedy Pourquoi pas moi ?, Ilan Duran Cohen's La Confusion des Genres, Arnaud Viard's Clara et moi, Merzak Allouache's Bab el web, Patrice Leconte's Mon meilleur ami and Emmanuel Mouret's Un baiser s'il vous plaît.
In 2014, she is nominated for a César's as Best Supporting Actress for her performance in Bertrand Tavernier's Quai d'Orsay.