Pierre Abi Saab, Journalist & Critic
Jury Member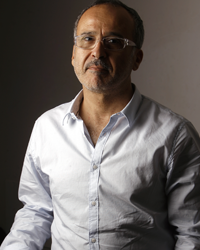 Journalist and critic who lived and worked between London, Paris and Beirut.
Specialist of Arab cinema, visual arts, theater and performing arts, North Africa and Middle East since the 80s.
Careful observer of the literary, artistic and cultural life in the Arab world.
Journalist for Assafir (Beirut 1982-1985) and Al Yom Assabeh (Paris, 1985-1990).
Head of the Cultural Service at Al-Wasat (London, 1991-2000), and Al-Hayat (Beirut, 2000-2006).
Founder and Chief Editor of Zawaya (2001 – 2007), emerging in Arabic magazine, published in Beirut and dedicated to living culture, mainly addressing a young audience in different Arab countries.
Co-founder in August 2006 AL-Akhbar, pan-Arab daily based in Beirut.
Currently deputy editor in chief of this newspaper, after having initiated and led the pages Arts, Culture and Media.