Jonathan Nossiter, Director
Jury Co-President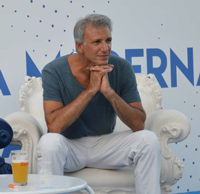 Prize winning film director Jonathan Nossiter has directed six feature films, including the Sundance fiction grand prize winner "Sunday" and Palme d'Or nominated "Mondovino" (One of only three documentaries nominated in the history of Cannes).
The most recent is "Natural Resistance" (2014), which premiered at the Berlin Film Festival and was theatrically distributed in France (Rézo), Italy (Lucky Red), UK (Soda Pictures), US (Film Buff) among others.
His previous film, "Rio Sex Comedy" (2011) starring Charlotte Rampling, Bill Pullman and Irène Jacob, (Toronto Film Festival Gala) was released in France by Ocean and in the US by Film Buff.
"Mondovino", Cannes competition in 2004, was released in France by Diapahana and in over 40 other countries. He co-wrote and directed "Signs & Wonders" (2000), a psychological thriller set in Greece, produced by MK2 and Nick Wechsler, with Charlotte Rampling and Stellan Skarsgard.
It was nominated for the Golden Bear at the 2000 Berlin Film festival. "Sunday" (1997), a black comedy he produced, co-wrote and directed, won the Sundance Film Festival's Grand Jury Prize for Best Film and Best Screenplay and the Deauville Film Festival's Grand Prize for Best Film and their International Critics' Prize and was shown in "Un Certain Regard" at Cannes.
His first feature, which he wrote, produced and directed, "Resident Alien", is a comedy mixing documentary and fiction (Premiere Berlin Panorama 1991).