Vahina Giocante, Actress
Jury Member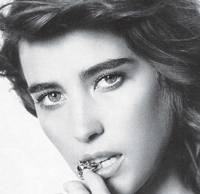 French actress Vahina Giocante started at the early age of 16 in Marie Baie des Anges (1997), when the film travelled the world and premiered in international film festivals (Venice, Berlin, etc) to receive great nods and reviews.
In 1999, Giocante shared the big screen with Fabrice Luchini, Isabelle Huppert & Vincent Lindon in the wry satirical comedy Pas de Scandale, directed by Benoît Jacquot. 5 years later, Giocante stars in Ziad Doueiri's Lila Says (2004), where she embodies a teenager who resides with her aunt in a rough neighborhood in Marseilles.
Chief film critic for The New York Times A.O. Scott compared her performance then to the one of Brigitte Bardot in And God Created Woman, being "a femme more vital than fatale". He further wrote that "Ms. Giocante's intoxicating mixture of gamine innocence and womanly knowingness is almost too much for the movie but her charisma gave it a mood that is at once breathlessly romantic and cannily down to earth".
Later in 2009, she appeared along with Gerard Depardieu in Inspector Bellamy. The last film of France's master of suspense, celebrated French director Claude Chabrol, marks a playful dramatic murder-mystery that turns the story into an exquisite slice of crime.
Last year she finished playing the lead in the series Mata Hari that was shot in Portugal and Russia, before getting released in various countries so far. The series that follows the infamous life of exotic dancer and spy Mata Hari, tells the story of an exceptionally strong woman with a multicultural personality.