Ziad Doueiri, Director
Jury Member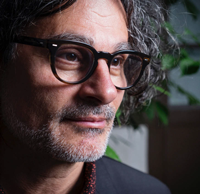 Ziad Doueiri was born in Beirut. He grew up during the civil war and left Lebanon at 20, to study in the United States.
He worked as an assistant camera and a camera operator in Los Angeles. Among his film experiences are Quentin Tarantino's Reservoir Dogs, Pulp Fiction, Four Rooms, Dusk Till Dawn and Jackie Brown. His first feature film is West Beirut (1998) premieres at Cannes Director's Fortnight, and won the International Critic's Award in Toronto Film Festival.
He directed Lila Says (2004) co-written with Joelle Touma. Lila Says was screened in Toronto, Sundance and Miami International Film Festivals, won best Screenplay, best actor and best film at the Gijon Film Festival in Spain and the Grand Jury Award in Verona Film Festival in Italy.
He directed Sleeper Cell (2006) for Showtime Network. He directed The Attack (2012) co-written with Joelle Touma.
The Attack was selected at Telluride, Toronto and Dubai Film festivals. It won numerous awards including Audience Award, Critics' Jury Award at COLCOA in Los Angeles. It also won Cineuropa Award at Istanbul Film Festival. The Jury's Special Mention at San Sebastian Film Festival and The Grand Prix at Marrakech International Film Festival for the Best Movie.
He directed season 1 of Baron Noir (2016), for Canal + with Kad Merad and Niels Arestrup. Produced by Thomas Bourguignon.
He directed The Insult (2017), co-written with Joelle Touma. Produced by Ezekiel Films. The Insult is in the official competition at Venice Film Festival. It's also selected at Telluride Film Festival, Toronto Film Festival, Mill Valley, and Chicago Film Festival.
He currently directs season 2 of BARON NOIR (2017) for Canal + with Kad Merad and Anna Mouglalis. Produced by Thomas Bourguignon.