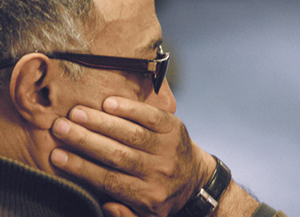 Born in 1940 in Tehran, Iran, Abbas Kiarostami was a prolific film director, screenwriter and producer, having been creatively involved in over 40 films.
Over the course of five decades, he has established himself as one of the most important figures in global cinema. Kiarostami emerged as one of the vital figures among his own generation of filmmakers who launched the Iranian New Wave, which began during the late 1960's with distinct screen techniques, including the use of poetic dialogue and allegorical storytelling to explore political and philosophical issues.
Beyond his film works, he was also a major figure in the art world with numerous gallery exhibitions of his photography, short films and poetry. He was a veritable Renaissance man who also designed film credit titles and publicity materials, as well as expressing himself as a poet, photographer, painter and illustrator.
His acclaimed films include A Taste of Cherry, The Wind Will Carry Us, Close-Up and his Koker trilogy. He posthumously received the Writers Guild of America's honorary award "West's 2017 Jean Renoir" for International Screenwriting Achievement, which is only discerned to an international writer who has advanced the literature of motion pictures and made outstanding contributions to the profession of screenwriter.
We were honored at the Beirut International Film Festival to have screened several of Kiarostami's award winning films and to have introduced him to IESAV, who held two workshops with him over a period of two years. This introduction had lasting influences on the students then, who are today some of our top active directors.
It is with a heavy heart and a humbled smile that we host today this happy gathering of friends to remember and honor Abbas Kiarostami, as a great director and as our friend.
Attending here with us today are:
Ahmad Kiarostami – Producer 24 Frames, son of Abbas Kiarostami
Homayoun Ershadi – Lead actor in A Taste of Cherry and close friend
Toufan Garekani – Existential Interpreter and friend
Charles Gilibert, CG Cinema – Producer 24 Frames
Ensieh Maleki – Sound supervisor 24 Frames & Take Me Home
Ali Kamali – Assistant to Abbas Kiarostami, Visual Effects supervisor on 24 Frames & Take Me Home